Climate Change is already affecting the lives of many people, with catastrophic heatwaves, droughts, fires, hurricanes and floods happening all over the world. The voices of climate scientists have finally been heard. Regulators are setting up mandatory climate disclosure requirements. Governments and companies are assessing not only their physical climate risks, but also risks related to the transition to the clean energy economy. This transition represents huge risks and opportunities in all sectors of the economy, and is already creating new jobs and new business models. Our programme will give you unique opportunity to dive into the subject and get a well-researched overview in just a few hours.
As ESG and climate risk management become a fundamental component of corporate decision-making and investment strategy, having a deep understanding of climate change and its impact on business is no longer optional. Don't miss this opportunity to stay ahead of the curve and position yourself as an expert in the field of climate change and sustainability.
This programme is aimed at both ESG and sustainability professionals, and those people who want to understand a broader picture of the climate change challenges and solutions that we face as companies and individuals.
GET ACCESS TO ALL OUR COURSES
£149.99

Full access to all Climate Change courses

Get access to all courses on Climate Change and Sustainability. Learn about climate agreements, role of the governments and private sector in decarbonisaton and energy transition. Get an overview of the green technologies including renewables, hydrogen, fuel cells, carbon capture, storage and utilisation. Learn about circular economy, ESG and climate disclosures and reporting. Gain knowledge about decarbonisation efforts and challenges across several industries. Discover how digital technologies facilitate climate action.

Buy Now
Why learn about Climate Change?
What will you learn in our programme?
For best experience, watch on your computer screen
The best way to experience our programme is to purchase full access to all courses
If you buy several courses, you get a discount
Julia Mariasova
Your course instructor
Julia is a management consultant, project, programme and change manager, media producer/director with 20 years of experience in financial services industry and 10 years of experience in media/video production industry. She has Masters degree in Economics, she is a Qualified Management Accountant (CIMA), and is certified in Filmmaking (London Film Academy). Julia has a particular interest in the topics of climate change, decarbonisation, energy transition and digital technologies. She is passionate about change, strategic development, operational transformation and learning new things. She has experience of working in both large corporate and start-up environments, and running her own business. Julia founded Shortlisted-Productions.com, a media production company, specialising in design and delivery of online training courses and business video content.
We interview industry experts to add depth to our courses
What our students say about our courses
Swipe to read reviews from our students
The programme gave a single space to gain knowledge of the history current and future state of the climate change agenda. This was great to learn from and I feel much better informed.
This is one of the best digital, self-paced courses I have ever taken in my career. I like how the learning experience clarified climate change terminology, described the root cause / origination of the problem, and walked us through a wide range of case studies. I highly encourage anyone who is interested in making a difference in the world to take this course. You will not be disappointed!
Very timely course on this crucially important topic. Well structured and professionally delivered material that is easy to understand even for those with limited knowledge of the topic. Highly recommend!
Excellent programme - well-explained background to the crisis facing our planet. The presenter is highly knowledgeable and the film production is engaging and compelling.
Wonderful course. I want to do something in the area of climate change in India. People are not much concerned due to lack of awareness. They think that planing tree is enough.
This was a brilliant overview of some really big problems that we all face over the next decades - and if we get them wrong then the consequences are huge. Thank you and I feel much better equipped to look at this at a corporate level - and great to have these courses as a reference point for the future.
Perfectly structured and very informative. Absolutely enjoyed it and would highly recommended!
Masses of information and great clarity
This programme is excellent if you want a general overview of different aspects of climate change. It covered everything from political and business aspects of climate change to the energy transition. The lectures include a lot of visuals - both graphics and videos. The handout slides are helpful. I highly recommend watching it!
Very professionally made course, high-quality content. Respectful sources. Instructors are very interactive, charismatic and easy to listen to. Visuals and video production are top quality, very dynamic like a good documentary.
Letters from our students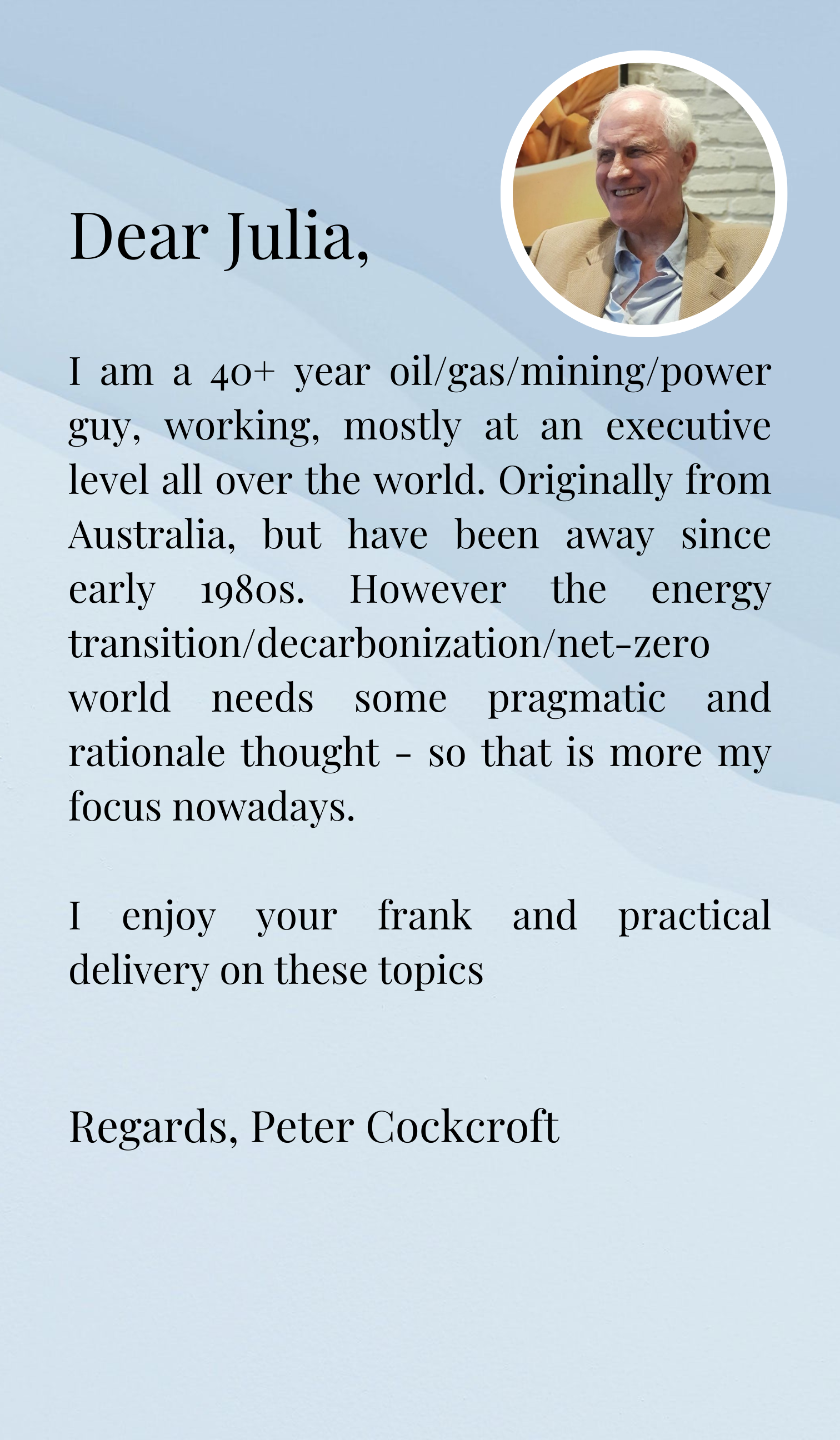 £149.99

Full access to all Climate Change courses

Buy Now
Want to hear about upcoming courses?
Add your email and you will never miss our announcements
Do you want to see more free content?
Tell us which topics you want us to cover and why
Any questions or corporate queries?
Feel free to suggest a course topic or an expert speaker you want us to invite. You can also contact us if you need a custom course for your organisation.
Get inspired
Download our list of recommended podcasts, books and films on Climate Change